Year 10 Interactive Maths - Second Edition

Problem Solving
To solve problems involving simultaneous equations, introduce two variables and form two equations. Then solve the equations and state your answer in terms of the original problem.
Example 8
The denominator of a certain fraction is 5 more than the numerator, and the sum of the numerator and the denominator is 11. Find the fraction.
Solution: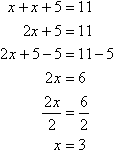 Example 9
The length of a rectangular orchard is 50 m more than the width, and the perimeter is 400 m. Find the length and width. Hence determine the area of the orchard.
Solution:
Let the length and width of the rectangular orchard be l m and w m respectively. Then: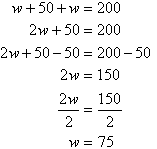 So, the length and width are 125 m and 75 m respectively.
Now,