Range of Probability
If an event is impossible, its probability is 0. If an event is certain to occur, its probability is 1. The probability of any other event is between these two values. That is:

Example 3
A die is rolled. Find the probability of obtaining:
a. a 7
b. a number less than or equal to 6
Solution:



Note:
It is certain that event A will occur as it contains all 6 possible outcomes.
7 is not an outcome of rolling a die as it is not possible.

Example 4
A pack of 52 playing cards consists of four suits, i.e. clubs, spades, diamonds and hearts. Each suit has 13 cards which are the 2, 3, 4, 5, 6, 7, 8, 9, 10, jack, queen, king and the ace card. Clubs and spades are of black colour whereas diamonds and hearts are of red colour. So, there are 26 red cards and 26 black cards.
Find the probability of drawing from a well-shuffled pack of cards:
a. a black card
b. the king of diamonds
c. a jack
Solution: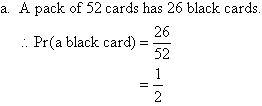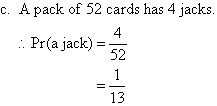 Complement of Event A
A' is the complement of event A. It contains all of the elements in the sample space S that are not included in A.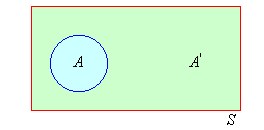 It is certain that either A or A' must occur. So, it follows that:
For any event A and its complement A':


Example 5

Solution:
Let A be the event that a train will be late. Then A' is the event that it will be on time.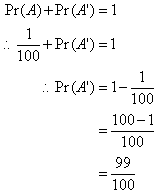 Key Terms
favourable outcomes, range of probability, impossible, certain, complement