Year 10 Interactive Maths - Second Edition

Addition and Subtraction of Algebraic Fractions
Knowledge of adding and subtracting algebraic fractions is as important as knowledge of factorisation.

To add or subtract algebraic fractions:
Find the lowest common multiple of the denominators.
Express all fractions in terms of the lowest common denominator.
Simplify the numerators to obtain the numerator of the answer.

Example 9

Solution:
Often, we set out the solution as follows:


Example 10

Solution:

Note:
Be careful of a minus sign before a bracket.
Factorise the final answer to discover whether any common factor exists which may be cancelled.
Always reduce the final answer to its lowest terms.

Example 11

Solution:

Useful Device
Sometimes we use:

to simplify algebraic expressions.

Example 12

Solution: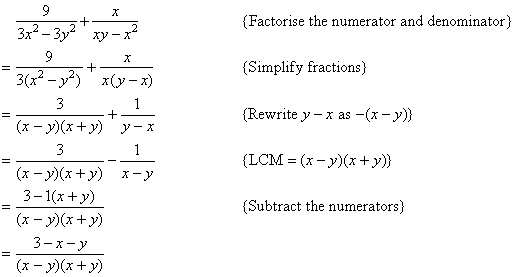 Note:
Always be ready to use a – b = –(b – a).
Leave the lowest common denominator in factorised form.