Year 10 Interactive Maths - Second Edition

Quadratic Equations
If the highest power of the pronumeral in an equation is two, then it is said to be a quadratic equation.


Solving Quadratic Equations
We will consider the following methods to solve a quadratic equation:

The Null Factor Law

From this we can infer that:
If the product of any two numbers is zero, then one or both of the numbers is zero.
That is, if ab = 0, then a = 0 or b = 0 (which includes the possibility that a = b = 0).
This is called the Null Factor Law; and we use it often to solve quadratic equations.

Example 1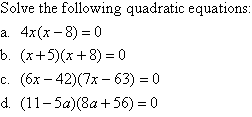 Solution:





Key Terms