Year 7 Interactive Maths - Second Edition

The Reciprocal of a Number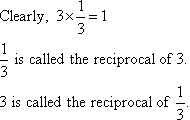 One number is the reciprocal of another if their product is 1.


In general:
The reciprocal of a fraction is obtained by interchanging the numerator and the denominator, i.e. by inverting the fraction.

Example 7
Find the reciprocal of 20.
Solution:


Example 8

Solution:


Example 9

Solution: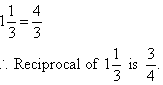 Note:
To find the reciprocal of a mixed number, change it into an improper fraction and then invert it.

Key Term