Year 8 Interactive Maths - Second Edition

Equations Involving Two or More Operations
To solve an equation involving two or more operations, start by carrying out an inverse operation on the number that is furthest away from x.

Example 8
Solve 7x + 4 = 25.
Solution:
The number 4 is furthest away from x. The inverse of + 4 is – 4. So, subtract 4 from both sides.


Problem Solving 2
Example 9
If three times a number, when diminished by 4, equals 17, what is the number?
Solution:
Let x be the number.
Three times x is 3x, and diminishing this by 4 gives 3x – 4, which we are told equals 17.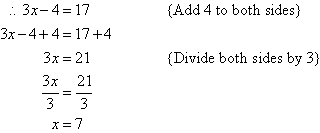 So, the number is 7.