The marked price of an article that is offered for sale is the amount written on the price tag.

Shopkeepers sometimes allow the customers to have the article for less than the marked price. For example, if the marked price is $40, the shopkeeper may sell the article for $30. The $10 that has been deducted from the marked price is called a discount.

Discounts are often expressed as percentages, and then always as a percentage of the marked price.
So, if an article marked at $40 is sold for $30, then: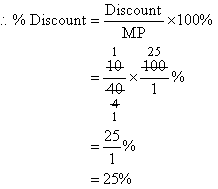 We say that the article has been discounted by twenty-five per cent.

Example 14
A jeweller discounts a watch marked at $120 by 25%.
a. How much is the discount?
b. What will a customer pay for the watch?
Solution: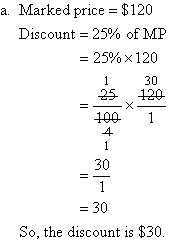 Key Terms