Year 9 Interactive Maths - Second Edition

Operations with Surds
In the following sections we will consider like and unlike surds, addition and subtraction of surds, multiplication of surds and the application of the Distributive Law to surds.

Radicand
The number under the root sign is called the radicand.

Like and Unlike Surds
Like surds have the same radicand, whereas unlike surds have different radicands.

Addition and Subtraction of Surds
Only like surds can be added or subtracted.
Example 8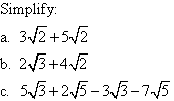 Solution:



Note:
Always simplify surds before adding or subtracting them.
Example 9


Solution:


Key Terms