Year 9 Interactive Maths - Second Edition

Further Quadratic Trinomials




7x×2 + x×1 = 14x+ x = 15x. We reject this pair as the middle term is 9x.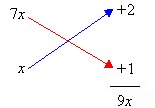 Note:
The solution is read across.

Use of a Common Factor
If a quadratic trinomial has a common factor, take it out and place it in front of the brackets. Then use the cross-multiplication method to factorise the quadratic trinomial.
Example 14

Solution: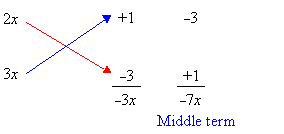 Check:


Note:
The common factor 2 was taken out first to make the factorisation simpler.